The best part of the 2013 movie season is over. There are a couple of films I'm still excited to see (
Kill Your Darlings
hasn't hit The Pirate Bay yet, although
Hunger Games: Catching Fire
may have been), but next year is when things start to pick back up. Here are the 14 most anticipated movies of 2014:
X-Men: Days of Future Past (dir Bryan Singer) 20th Century Fox, May 23
The X-Men film franchise has always been a huge disappointment. The films insisted on replacing the classic mutant uniforms with soon-to-be-dated leather outfits, destroying any hope of them aging as well as, say, Spider-Man.
First Class
was a revival for the series, and
Days of Future Past
looks to be Marvel's
Dark Knight.
The time travel storyline may seem like it'll be confusing, but time/space travel and alternate universes are
what the X-Men do best
. The trailer is epic, ending with a meeting of the young Charles Xavier (James McEvoy) and Professor X (Patrick Stewart), the man he grows up to be. Superhero Sci-Fi is the next mutation of movie evolution.
The Hobbit: There and Back Again (dir Peter Jackson) New Line Cinema, Dec 17
Bilbo Baggins seriously needs a lint roller...
The Desolation of Smaug
hasn't even hit theaters yet, but Middle Earth fever is still at a high pitch.
There and Back Again
, the third movie in the second Hobbit movie series (which, in true
Star Wars
form, is the prequel to the
Lord of the Rings
series) will bridge the gap between the two. Fans of the saga will then be forced to purchase the trilogy on Blu Ray before being offered the full series in a special edition format that includes a Hobbit foot. You don't need to be told what this movie's about - you're either into it, or you're not.
RoboCop (dir Jose Padilha) MGM, Feb 14
When Alex Murphy (Joel Kinnaman) gets critically injured in the line of duty, a huge corporation decides to turn him into a robot enforcer. I could drone on about the many ways
Robocop
's dystopian future is likely to parallel current events, but I don't want to spoil a movie none of us have seen yet. Everything looks set up to do
the Robocop Frank Miller wanted
to do in the 80s. The only real guesswork is whether or not Miller will complain about this one.
The Monuments Men (dir George Clooney) Columbia Pictures, Feb 7
The last time George Clooney and Matt Damon teamed up to steal some art was a bit more lighthearted, but Clooney figured out a way to spin the formula into a somber WWII piece about the Nazis. Based on a true story and filmed in Germany,
Monuments Men
looks to be the Clooney's next political film. Don't come to this movie looking for
Inglorious Basterds
or
Saving Private Ryan
-style battles; instead expect an updated
Schindler's List
, Oscar-bait with a lot of dialogue.
Teenage Mutant Ninja Turtles (dir Jonathon Liebesman) Nickelodeon, Aug 8
Recently surfaced photo of 2014 TMNT concept art...
TMNT
is a nostalgic ip that reminds us why we loved the 80s and 90s. With Nickelodeon hiring Michael Bay to reboot the live-action film franchise, you can bet it'll be a snarky and action-packed adventure. Purists are annoyed that the turtles were reportedly created by aliens instead of the traditional ooze, but one minor detail shouldn't derail the whole project. The only way to outshine anthropomorphic turtles eating pizza, trash-talking, and kicking butt is the casting of the totally tubular Megan Fox as April O'Neil - cowabunga, dudes!
Maleficent (dir Robert Stromberg) Walt Disney Pictures, May 30
Disney's live-action adaptation of
Sleeping Beauty
puts a
Wicked
twist on the tale, centering on the villainous witch Maleficent (Angelina Jolie). Dark live action fairytales have been trending for a few years now, and with the success of
Once Upon a Time
(although
Grimm is better
), Disney looks to reinvent the classics from its vault once again. Should
Maleficent
hit, Disney can capitalize on the void
Twilight
left behind while we wait for a
Teen Wolf
movie.
The Amazing Spider-Man 2 (dir Marc Webb) Columbia Pictures, May 2
As the second movie in the second Spider-Man movie trilogy,
Amazing Spider-Man 2
has high expectations. Marvel has a history of making great sequels (
Spider-Man 2
and
Iron Man 2
are, arguably, the best in each series), and the teaser featuring Jamie Foxx turning into Electro looks amazing, and we can't wait to see
Paul Giamatti's Rhino
. Emma Stone makes her return as Gwen Stacy, although with the Osborns involved, it's safe to say she'll be murdered within the next two movies by a Goblin.
Dawn of the Planet of the Apes (dir Matt Reeves) 20th Century Fox, July 18
Caesar chasing Amy from Congo...Amy love..Amy pretty..Love Amy...
Although Tim Burton's re-imagination of
Planet of the Apes
had its moments, it was 2011's
Rise
that truly resurrected the series, bringing in over $481 million worldwide. Now that the apes have their freedom,
Dawn
will likely lead off with the the type of action we only got a taste of in
Rise
. So far the only teaser was shown at Comic-Con, but we know humans' number have been thinned by a virus and Caesar (Andy Serkis), the alpha ape, is being threatened by a band of human scientists led by Gary Oldman. It's a shame we already know who wins, but it'll be fun watching anyway.
Fast and Furious 7 (dir James Wan) Universal Pictures, July 11
Cars. Fast cars. Fast cars racing.
The Fast and Furious franchise has so many sequels, it's difficult finding reasons to involve everyone in illegal street racing for criminal organizations. The usual suspects return, with Jason Statham joining the mix as a villainous version of
his Transporter character
, and Bow Wow rejoins for his first
FatF
since
Tokyo Drift
. Coincidentally,
Fast and the Furious 7
is the first film in the series to take place after
Tokyo Drift
(so basically Han is dead, and everyone still has a fast car).
Winter's Tale (dir Akiva Goldsman) Warner Bros, Feb 14
When Colin Farrell and Russell Crowe face off, you can can expect your woman to force you to take her to see it.
Winter's Tale
starts off as a period piece, with Farrell as Peter Lake, a thief, and Crowe as Pearly Soames, his gangster boss seeking revenge. Lake is rescued by a horse and travels through time to current day (albeit a somewhat different) New York City.
Winter's Tale
isn't likely to tackle time travel as well as
X-Men: Days of Future Past
, but it'll give couples
a Valentine's Day movie they can agree on
.
The Hunger Games: Mockingjay - Part 1 (dir Francis Lawrence) Lionsgate, Nov 21
You say you wanna revolution?
Fans of the Hunger Games book trilogy know
Mockingjay
is the final book in the series, where Katniss (Jennifer Lawrence) unites Panem and becomes the poster child for a revolution against the tyrannical Capitol. Split into two parts (thanks, Harry Potter),
Part 1
will contain all of the crucial plot elements, while
Part 2
will show the final battle and character resolutions. The Hunger Games: Mockingjay - Part 1 is sure to explore the type of corruption that
gave rise to Anonymous
and the Occupy movement.
The LEGO Movie (dir Phil Lord) Warner Bros, Feb 7
Fans of the popular LEGO video game series already know what kind of humor to look for in the first big-screen adaptation of the popular toy line. The trailer looks fantastic, with a
Shrek-
spin applied to the LEGO universe. Featuring the DC superheroes and the voice talents of Chris Pratt, Will Arnett, and Charlie Day,
LEGO Movie
is sure to please both kids and adults.
Divergent (dir Neil Burger) Summit Entertainment, March 21
The Hunger Games
aren't even over yet, and we already have a new trilogy about warring factions in a dystopian future. Citizens are marked with one of five distinct personality traits (courageous, kind, etc), and Tris (Shailene Woodley) is marked as essentially an unscannable (a la
Idiocracy
). She is forced underground, where she joins the resistance against this seemingly Utopian society.
Edge of Tomorrow (dir Doug Liman) Village Roadshow, June 6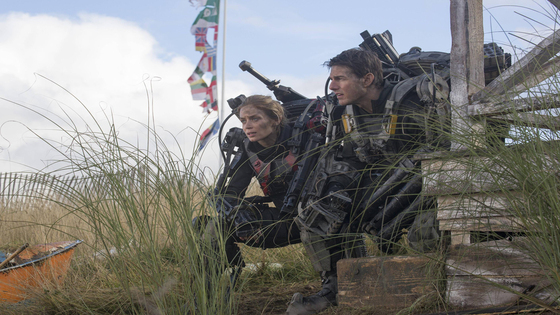 Although it won't be shown in Germany because it stars Scientology mascot Tom Cruise,
Edge of Tomorrow
is poised to be an epic sci-fi war film. It'll be interesting to see how the time-looping aspect plays out (Cruise's character relives the same fatal battle over and over). With any luck, EoT will be a mixture of
Halo
and
Groundhog's Day
instead of another
Battlefield Earth
.
Brian Penny is a former analyst at Bank of America turned force-placed insurance whistleblower, Anon supporter, and consultant.